University Counseling Service at Tippie
The Tippie College of Business prioritizes students' emotional and mental health by working to build emotional resilience in students to manage stressors experienced during college and prepare for careers. Tippie partners with University Counseling Services (UCS) to have Embedded Therapist, Kati Schneider, LISW. As an Embedded Therapist, Kati understands unique experiences and needs of business students; she is committed to fostering positive mental health and well being. For information on Kati's clinical approach, you can read her UCS staff bio.
UCS at Tippie is conveniently located in the Undergraduate Program Office (UPO) in Suite C140. You can schedule an appointment with Kati by e-mailing kati-schneider@uiowa.edu or calling UCS at 319-335-7294.
Tippie Thrive - Peers Supporting Peers
Tippie Thrive is a new program launching during the 2022-2023 school year. The program will focus on strategies and programming to improve students' emotional and mental wellness. The mission of Tippie Thrive is to build emotional resilience and student success by providing opportunities for awareness, reflection, education, and support of mental and emotional needs through peer connections.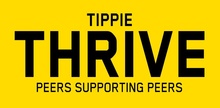 Goals of Tippie Thrive
Decrease stigma related to mental and emotional health
Build capacity for emotional and mental health services throughout Tippie
Provide learning opportunities for students to best cope with mental and emotional needs
Connect students to build community and support that fosters student success
Students can now apply to be on the Tippie Thrive Advisory Board, which is the governing body of the Tippie Thrive program. The Advisory Board uses a shared leadership and committee structure to carry out goals related to awareness, prevention, advocacy, and education of emotional and mental health. Student members are paid a stipend ($350/semester) to compensate for attending regular board meetings, planning, and being present during official events held by or promoting Tippie Thrive. Please see the job description (pdf) for complete details.
To apply for the Tippie Thrive Advisory Board, complete the online application. Applications are due October 15. Short 20-minute interviews will be held between October 31 and November 11. We ask that applicants tentatively hold December 2 from 11:30 a.m. to 1:30 p.m. for our first team building event.
As part of your application you will need to answer these four questions in 300 words or less: 1. Please describe your interest in serving on the Tippie Thrive Advisory Board. 2. What are the special skills, knowledge, experience, or personal qualities you will contribute to help with the effective functioning of the Tippie Thrive Advisory Board? 3. Tell about a time you have advocated or helped someone through emotional/mental challenges. 4. As a Tippie student, what do you think are the biggest stressors students face and how do you suggest Tippie Thrive could work to address these stressors?

For more information, please contact Kati Schneider at kati-schneider@uiowa.edu or Adrienne Maxwell at adrienne-maxwell@uiowa.edu.