Elevate your learning, accelerate your career
RISE (Research, Internship, Study Abroad, Experiential Learning) takes an applied learning approach to students' education. All Tippie undergraduates are required to fulfill at least one RISE experience to graduate. RISE provides real-world experiences that allow students to utilize what they've learned in the classroom in meaningful ways. RISE maximizes learning by actively engaging in hands-on work and study. Through diverse experiences, RISE provides opportunities for students to develop practical skills related to their field of study and helps prepare for future careers.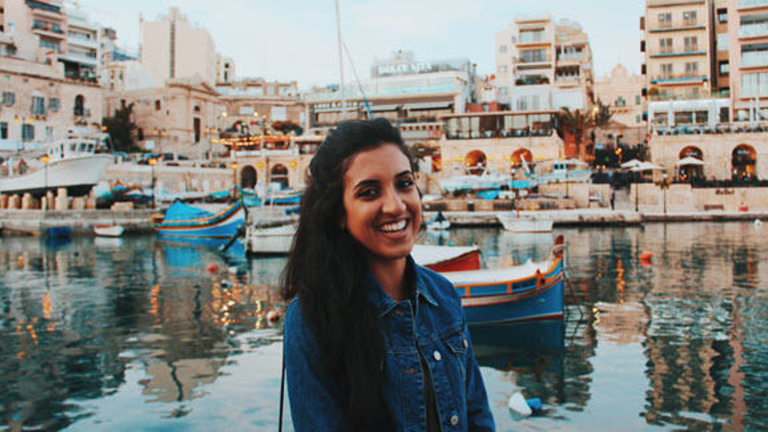 Experience life abroad during our short-term, summer, semester, or academic year programs.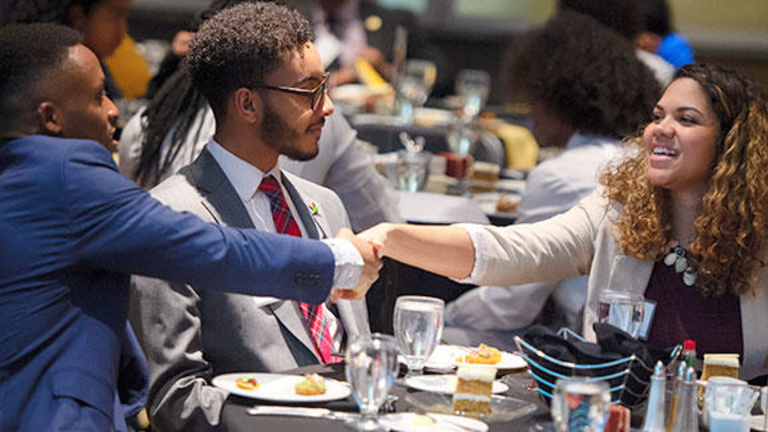 Make an impact outside the classroom by consulting with a business to help answer their problem.
Choose your Tippie RISE experience
Only one experience is required for graduation, but each extra experience you complete prepares you that much more for the real business world. Students who do so will be recognized formally at graduation.
Research with faculty
Want to take an in-depth look at a topic that interests you? Do you have the initiative and self-motivation to be your own boss? Consider researching under the mentorship of a UI faculty member.
How you'll benefit
You'll enhance critical-thinking and problem-solving skills, build a strong relationship with your faculty mentor, and practice collecting, analyzing, and applying data. You also learn so much about the topic of your research! Research experience is incredibly valuable in preparation for jobs in data analytics, marketing research, financial valuation, and more. And if you are thinking of going to graduate school, research experience is often a requirement!
Approved mentored research 
There are a variety of mentored research options for undergraduate business students. Honors students and all others are welcome to participate. Find out more about them at the following links. 
Want to learn more? Watch this video to hear about one student's research experience.
Internship Course
As you are searching for a professional internship, make sure to refer to our Tippie internship guide. Then, you will need to register for an internship course to meet Tippie RISE. Internship courses are designed to ensure you have a valuable and meaningful learning experience in which you take on job responsibilities and team projects related to your academic program and career goals and that you also familiarize yourself with a particular business field, explore career options, develop professional connections, and hone job-related skills.
How you'll benefit
At the beginning of your internship course, you'll set goals with your supervisor so that you are both on the same page about the many skills and experiences you want to acquire. Then, throughout the semester or summer, you will reflect on what you are gaining from the internship and how you can further your learning. In addition to giving you feedback about your goals and progress, the course instructor is also there for you as a resource for any concerns or challenges you may encounter during the internship. 
Approved internship courses
There are a number of internship courses approved to satisfy Tippie RISE. Make sure to choose one of the options at the link below.
Want to learn more? Watch this video to hear about one student's internship experience.
Study abroad
Experience life abroad during our short-term, summer, semester, or academic-year programs. Tippie also hosts our very own mini-sessions in London and Sydney, and is home to the CIMBA Italy program.
Your choice of study abroad program will depend on many factors, such as where and when you want to study, what type of courses you'd like to take, how long you plan to be abroad, and affordability.
How you'll benefit
You'll expand your worldview, learn about other cultures, gain the ability to work in a cross-cultural setting, and if you study in a non-English-speaking country, improve language skills.
Want to learn more? Watch this video to hear about one student's study abroad experience.
Experiential course
Experiential courses give you real-world experience while still having support and guidance from your classmates and instructor.
You'll make an impact outside the classroom in a variety of ways, such as consulting with a small business, creating a marketing plan for a local organization, or completing tax returns for community members.
How you'll benefit
You'll complete professional projects within a structured timeframe, gain awareness of a particular business or industry, build specific job-related and general professional skills, and make connections with representatives and managers from the company. 
Approved experiential courses
Advanced Corporate Finance (FIN:4310)
Advanced Marketing Research (MKTG:3103)
Applied Equity Valuation (FIN:4250)
Applied Wealth Management (FIN:4350)
Bus. Analytics & Info. Systems Capstone (BAIS:4150)
Career Leadership Academy Part 2​​​​​ (LS:3002)
Enterprise Risk Management (FIN:4410)
Entrepreneurship: Business Consulting (ENTR:4200)
Hawkeye Service Breaks (LS:1024)
Insurer Operations and Captive Management (FIN:4460)
International Entrepreneurship and Culture (ENTR:4100)
Marketing and Sustainability (MKTG:4250)
Marketing Consulting Project (MKTG:4800)
Marketing Institute Field Studies (MKTG:3701)
Marketing Institute Seminar I (MKTG:3700)
Marketing Research (MKTG:3100)
Nonprofit Ethics and Governance (MGMT:4600)
Nonprofit Organizational Effectiveness II (MGMT:3600)
Property and Liability Insurance (FIN:4420)
Sport and Recreation Field Experience (SRM:4197)*
Tax Practicum (VITA) II (ACCT:3451)
*all sections except Fans First