Program Announcement
Program Dates: December 27, 2023-January 10, 2024
Upcoming Information Sessions
Course offerings:
FIN:4020 International Finance and Trade in a Time of Disruption - Instructor: Bruce Kline
This course explores contemporary finance topics amidst the backdrop of one of the oldest financial centers in the world, London, England. Exploration of topics from a domestic (U.S.) and international perspective. Field trips and guest speakers will supplement class discussions.
BAIS:4150/ENTR:4100 Weekend at Wrexham - Instructors Kristy and Bob Walker 
This winter offering provides the unique opportunity for students to work as a cross functional team to capitalize on each other's skills to deliver a well-rounded research report of their findings: unearthing business strategy within a storyline of two American actors purchasing a team in the English Football League.
London Winter Course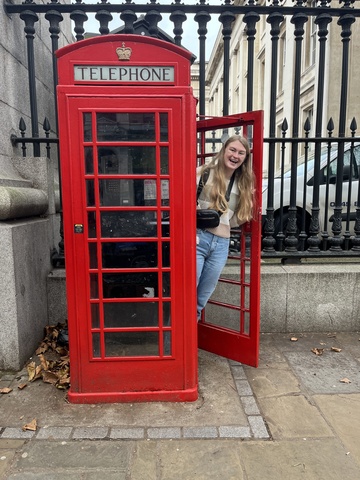 Winter session participants may select one of the two courses offered in London. 
A finance elective (FIN:4020) is offered every winter. The prerequisite for the course is completion of FIN:3000.
The second course for the 2023-24 academic year is a business analytics/entrepreneurship class.

BAIS:4150 prerequisites are 

BAIS: 3250, BAIS:3500, BAIS:3000, and ACCT:2200

ENTR:4100 prerequisites are 

ENTR: 3350 or 2000 and 60s.h. completed

The London course is 3s.h. and fulfills Tippie RISE: Study Abroad.
The course may also fulfill a portion of the International Business Certificate
Program Admission Criteria
2.75 UI and cumulative GPA AND 

For FIN:4020, completion of FIN:3000 
For BAIS:4150, completion of 

BAIS: 3250, BAIS:3500, BAIS:3000, and ACCT:2200

For ENTR:4100, completion of 

ENTR: 3350 or 2000 and 60s.h. completed

In good academic and disciplinary standing with the University of Iowa
If you have any questions about the prerequisites for these courses contact sydney-johnson@uiowa.edu before you apply
Program Application
Available through the Study Abroad Office August 1, 2023
Application Deadline: the 2023-24 application is closed 
"I learned how valuable being experienced internationally was for my future in the business world. Study abroad put me outside of my comfort zone in the best way possible. Communication is key in international business. The world is becoming more and more globalized, and knowing how to communicate across culture successfully is the most important skill a businessperson can have. Study abroad in London really showed me that."
Program fees
The program fee is typically in the range of $4,700 - $4,800, including a required study abroad administrative fee. Total program cost is approximately $7,000.
For the 2023-24 program, the finance course and the analytics/entrepreneurship course will have different course fees. Course fees will be finalized in September. 
What is included in the program fee:
3 s.h. course
Housing 
Half-day coach tour of London
Tour of Tower of London
Welcome afternoon tea
Day trip out of London
Cultural event
Company visits or speakers
Travel pass to explore central London
On-site orientation and 24/7 support in London
Study abroad administrative fee
What's not included in the program fee:
Round-trip airfare (estimated to be $700 - $900)
Meals ($750)
Personal expenses ($500)
Purchasing airline tickets
Students are advised NOT to purchase tickets until the program's status is confirmed.  In late September, students will be informed about whether there is sufficient interest to offer the trip.  Directions about purchasing tickets will be shared at that time.
Scholarships
Scholarships are available.  Students are encouraged to apply for scholarships from two different sources:  The Tippie Study Abroad Scholarship and Study Abroad scholarships.
Students are encouraged to complete scholarship applications at the same time they are applying to the program.  Both the Tippie College and Study Abroad will work to notify students of scholarships that will be awarded prior to deadline for committing to the program.
"This study abroad experience taught me to have confidence in myself, maximize every moment, and showed me my ability to navigate a new side of the world. The most meaningful part of the study abroad trip was sharing it with Tippie students. My experiences on this trip were shaped by not only the experience itself but the people whom I shared it with. I am endlessly thankful for my classmates and friends that made the most of the experience and the encouragement of pushing me to try new things."
"As a first-generation student, I didn't really know much about study abroad. After learning about the resources here and the affordability of study abroad through scholarships, I decided to take action. I was the first in my family to study abroad and I brought back more than just souvenirs... I brought back a new understanding of how large and complex the world is."
How do I learn more?
To stay up to date, email sydney-johnson@uiowa.edu to be added to the email update list. Details about information sessions will be shared via email.
Note to international students
Depending on your country of origin, it may be necessary for you to apply for a Student Visitor Visa before you can enter the United Kingdom for the program. You can check on the U.K. Border Agency's website to find out if you need to apply. If you need a visa to enter the United Kingdom, UI Study Abroad will supply you with documents to support your application.
To return to the United States after the class, you will need a valid form I-20 or DS-2019 endorsed for travel abroad and an F-1 or J-1 student visa that is valid through the date that you plan to return to the United States. You can obtain a travel signature from an advisor at International Students and Scholars Services (ISSS).