Connect. Collaborate. Communicate.
The Frank Business Communication Center is the Big 10's first business-specific writing and communication center. The hub for all Tippie College of Business communication initiatives, we support students and faculty in reaching their communication objectives. Transforming raw data into insight differentiates the Tippie graduate. Let the Frank Center help you learn how to communicate that insight.
What we do:
Tutor in writing, visual design, and presentations for all Tippie class assignments as well as resume review, cover letters, and interview preparation.
Partner with Tippie academic departments to develop departmental communication plans and support communication initiatives.
Coach Tippie student teams for case competitions, such as the Eller Collegiate Ethics Case Competition and the Kelley National Diversity Case competition. 
We've got tutoring for you!
Enrolled in a Tippie class? You're eligible for tutoring whether or not you're a Tippie student.
Tippie student? You're eligible for communication tutoring for ANY class and for career preparation support.
Communication initiatives
The Frank Center's unique partnership with academic departments ensures Tippie graduates are career-ready communicators. Integrating communication with technical content makes a Tippie degree more valuable. In collaboration with departments, we establish communication plans that develop discipline-specific communication skills. Frank Center staff provide support for communication assignment design and assessment across writing, presentation, and data visualization assignments. Tippie has been a leader in business communication since the launch of the Accounting Writing Initiative in 1998.
Student support
Want help with a written assignment, presentation, or slide deck? You've come to the right place! Our peer consultants all excelled in BCaP and undergo a full semester of tutor training. They can help you at ANY stage of ANY communication assignment.
Faculty support
Seeking to improve your students' communication skills? Reach out to the Frank Center for assignment design and rubric assessment of targeted communication skills: writing,  presentations, or data visualization. We offer support through all steps of administering the assignment, from creating prompts and rubrics, to tutorials and tutoring, to assessment and grading. Email meredith-ringel-ensley@uiowa.edu to make an appointment.
Fall 2023 consulting hours
See tippie.mywconline.com for the Fall 2023 schedule. During the semester, we are open 10 a.m. - 5 p.m. Monday - Thursday and 10 a.m. - 4 p.m. on Friday. We offer in-person and online appointments.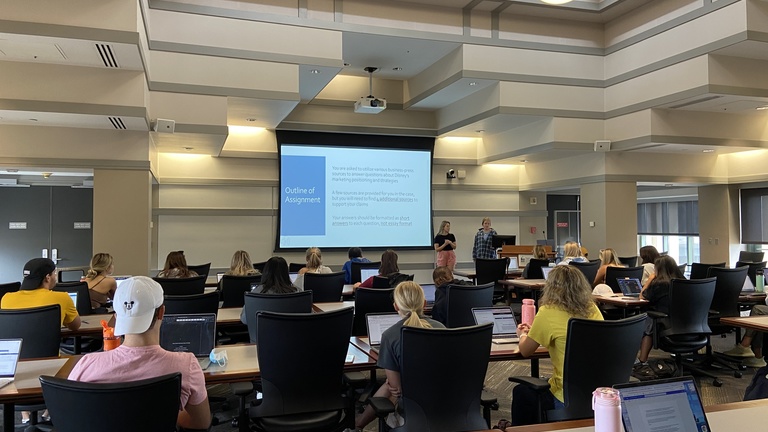 Scholarships
The Frank Center oversees the Norman J. Kallaus Business Communication Scholarship, which recognizes undergraduates with exceptional communication skills. This award, established in 2020, is named in honor of Dr. Kallaus, Professor Emeritus in the Department of Management and Entrepreneurship, who was an advocate for strong communication skills in Tippie students. Each semester, BCaP instructors nominate one or two students to submit a video that demonstrates their presentation abilities. Submissions are judged by Frank Center faculty and staff, and the winner receives a $2,500 scholarship.
The Frank Center also administers the Mary Thomas Prappas Business Ethics Essay Competition. We choose the strongest ethics papers written by students enrolled in the honors section of MGMT:2000 Introduction to Law and work with them to revise their essays. Members of the Iowa City business community judge first, second, and third place winners. Winners receive $1000, $750, and $500, respectively.
2023 scholarship winners
Congratulations to the finalists for this year's Prappas Ethics Essay Contest!
Luke Amspaugh

Ashley Auderer

Jack Meis

Shivani Patel

Mina Song

Samantha Stucky

Eliza Tutty

Mary Watson

Robert Weger

Hannah Wilcox
Winners will be announced mid-semester, Fall 2023.
Congratulations to Alex Mona, winner of Spring 2023's Kallaus Scholarship!
Support the Frank Center
We're able to provide communication training for Tippie students thanks to generous endowment gifts and donations. Support the Frank Business Communication Center and help us further our mission of molding the communication skills of tomorrow's business leaders.