Go above and beyond your major
Get involved in activities across the college. Whether you join an institute or try out a student organization, you will gain hands-on experience, meet other Tippie students with similar interests, and learn real-world skills that can help you find your next internship or job. 
Student organizations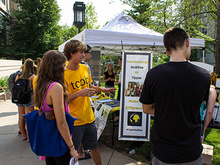 Want to take a look into the fashion industry? Take a business trip to talk to industry leaders? Give back to your community? Join a student organization today to find out what you've been missing. 
Centers & institutes
Focus your degree by joining a center or institute that fits your major. Centers and institutes at Tippie will give you the leg up in the classroom and beyond. Whether you need help finding an internship, starting a research project, or launching your own business, you will gain the skills you need to make yourself stand out above the rest. 
Tippie RISE
Research the latest business trends. Intern over the summer at a Fortune 100. See the world while also learning global business practices when you study abroad. Explore your major with an experiential learning course. Pick one or all four, every experience will prepare you for the real business world. 
Research
Figure out the how calorie counts affect obesity or create a formula for movie profitability. With the help of your mentor, you can ask the big questions. 
Internship
Work at a Fortune 500 company, find your passion for retail, develop the skills you'll need after graduation, and show them off on your resume. 
Study abroad
Need a change of pace? Travel to a different country, learn about the global business world, and become more culturally savvy in one fell swoop. 
Experiential learning
Take a class that puts you out there—consult a business, help out low-income families with their taxes, or create your own project. You'll get the hands-on experience you need while you learn in a Tippie classroom.