More than just numbers
Accounting isn't just balance sheets and numbers. It's also people skills, professionalism, and integrity. We've designed our outstanding program around these factors. So well, in fact, that more than 120 firms recruit our accounting students on campus each year.
Declaring an accounting major
To declare a major in accounting, you must be eligible to declare a major in Tippie and meet the following additional criteria:
GPA of 3.0 UI and cumulative
At least a B- grade in ACCT:2100 Introduction to Financial Accounting
In order to then enroll in major-level courses in accounting after declaring the major, you must have a 2.67 (B-) average in ACCT:2100 Introduction to Financial Accounting and ACCT:2200 Managerial Accounting.
Students admitted to Tippie who do not meet the requirements for enrolling in major-level courses in Accounting must petition for access.
Courses and course requirements
All accounting major-level courses (ACCT:3100 and above) must be completed at the University of Iowa.
Common required courses
Professional Accounting Seminar
Income Measurement and Asset Valuation
Valuation of Financial Claims
Introduction to Taxation
Accounting Information Systems
Auditing
Accounting for Management Analysis and Control
Business Law
Major elective courses
Advanced Tax Topics
Advanced Financial Accounting
Optional courses
Tax Practicum I (VITA)
Tax Practicum II (VITA)
Tax Research
Interested in VITA Services?
Our VITA volunteers provide free tax help to taxpayers earning less than $57,000 a year (married taxpayers filing a joint return must have joint income less than $57,000 a year).
2022 process due to COVID-19: As an alternative to meeting face-to-face, we are using two mostly contact-less alternatives.To request one of these methods, use this link: bit.ly/UI_VITA_Enroll. To learn more before enrolling, visit this page: Getting Started with VITA.
Accounting Society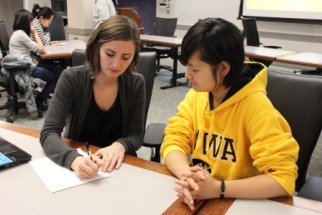 The Accounting Society helps students discover the potential of an accounting degree and aid in their transformation from student to young professional. If you are thinking about accounting as a major, or just want to learn about what accountants do, these meetings are for you!
Want to improve your public speaking skills?
The One Button Studio is the perfect way to practice your presentations and improve your public speaking.
Reserve the One Button Studio