Technology-savvy business
A smart business decision maker understands how to make their organization more profitable and productive through the use of technology. With a BAIS major, you can be that decision maker. Open the door to big-time careers where you'll help your company succeed with the power of data.
Globally recognized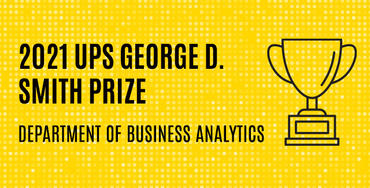 The Department of Business Analytics won the 2021 INFORMS - UPS George D. Smith Prize, which recognizes programs which seek to strengthen ties between industry and academia.
The prize is awarded to programs for "effective and innovative preparation of students to be good practitioners of operations research, management science, or analytics."
Courses and course requirements
You must take all required courses and two elective courses from the major.
Major required courses
Computational Thinking
BAIS Professional Preparation
Database Management
Data Wrangling
Data Mining
Business Analytics and Information Systems Capstone
Major elective courses
Business Process Automation
Accounting Information Systems
Information Visualization
Digital Product Management
Cloud Computing
Optimization and Simulation Modeling
Advanced Database and Big Data
Cyber Security
Economic and Business Forecasting
Marketing Analytics
Computer Science I: Fundamentals
Students are also encouraged to consider courses in the Computer Science and Statistics departments to increase technical skills that employers seek.
Find more resources
We've put together a toolkit filled with helpful tips for students interested in learning more about this exciting field. Here you'll find information on potential careers, descriptions of courses, links to our social accounts, and more.